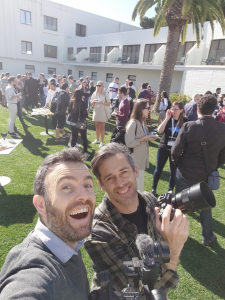 Last week was an exciting one for me. I was commissioned by my agent Splento to film and photograph an off-site event for the client Labster in the south of Portugal. The event was held at the luxurious Tivoli Carvoeiro Resort. I enlisted a second photographer, Helio, who focused on still photography while I managed to film the event.
The assignment involved capturing the ice-breaker & team-building exercises, the prize-giving events, the meals and the Gala. The team-building exercises consisted of a range of activities – from yoga, and meditation, to productivity hacks, VR contests and Henna painting, there was also a treasure hunt and much much more. Everyone was in a great spirit from the diverse backgrounds and nationalities of the staff and the atmosphere was positive you could tell that everyone enjoyed working at Labster.
The venue where the hotel was situated had a spectacular view of the sea. The food was delicious and the atmosphere was relaxed. The Gala on the last evening was an amazing event and truly shows that as an employer it values its staff and the staff also love working there. The event had no expense spared with live music and exquisite meals to suit all diets and dietary restrictions and the decorations were beautiful.
Overall, it was an amazing experience. I had the chance to work with a great team, those working in the background at Splento, as much as working with colleagues like Helio, who was able to keep up with the long hours, and also the team who managed the event in Labster and those made the whole thing go seamlessly for the event from the hotel. I look forward to sharing promo content from this event as and when it is ready to be shared publicly.