Some months ago, I was contacted via Instagram by Victoria for a wedding shoot. Victoria at the time was trying to arrange a photographer for her wedding, in the end, we did not commit to a booking, however, we did later schedule an elopement session after the event, to be shot at Praia da Ursa.
I was so excited to be given this opportunity. We shared various themes and ideas of what we could achieve at the location. The session was intended for a sunset shoot, and we arranged to meet a couple of hours prior to sunset.
Meet Kate the assistant:
Kate came into my life after shooting the session with Diana Petkovics. Kate attends the same church as her and had keenly followed my work since she saw the photos. Kate is a fan of photography and wanted to find her way into the industry. It's so relatable how I once was in those same shoes, I decided to offer her the opportunity to join me in the session to assist with Victoria & Paulo's Elopement.
Praia da Ursa
There is so much to be said about preparation; and how as much as you can prepare, you'll always overlook some element. I had some weeks prior to the session, checked sunset times at the location, studied the location via satellite images, and checked tide times and hiking approaches to the beach, along with the standard due diligence of what other photographers have done on that beach in the past.
It was therefore a little surprising to me that the descent to the beach was a lot steeper than I had anticipated, despite already knowing the approach was steep. We set off, Paulo in his wedding suit and Victoria in her full wedding dress and heels descending the steep and gravelly gradient down to the beach. While I didn't put a stopwatch to it, I would say that the descent took approximately 30-40 minutes from parking literally at the very start of the beach path. Thankfully, having Kate with me to help with carrying the equipment and a spare set of hands to help was ever appreciated on the descent!
Music is Food for the Soul

Arthur Schopenhauer
Having not worked with or even met Victoria and Paulo before, I went out on a limb to play some music to help us get into the creative vibe of the session, I had a great playlist of some "feel good" songs I had carefully vetted prior to the session.
In all prior wedding/portrait sessions I've worked in (closed and open environments), I've always felt that music has always helped limber up my clients, help them feel at ease and lighten the mood and bring out more of those natural smiles with wide eyes and that unmistakable lip-synch happiness, you get from following the words to classic ballads.
Little did I know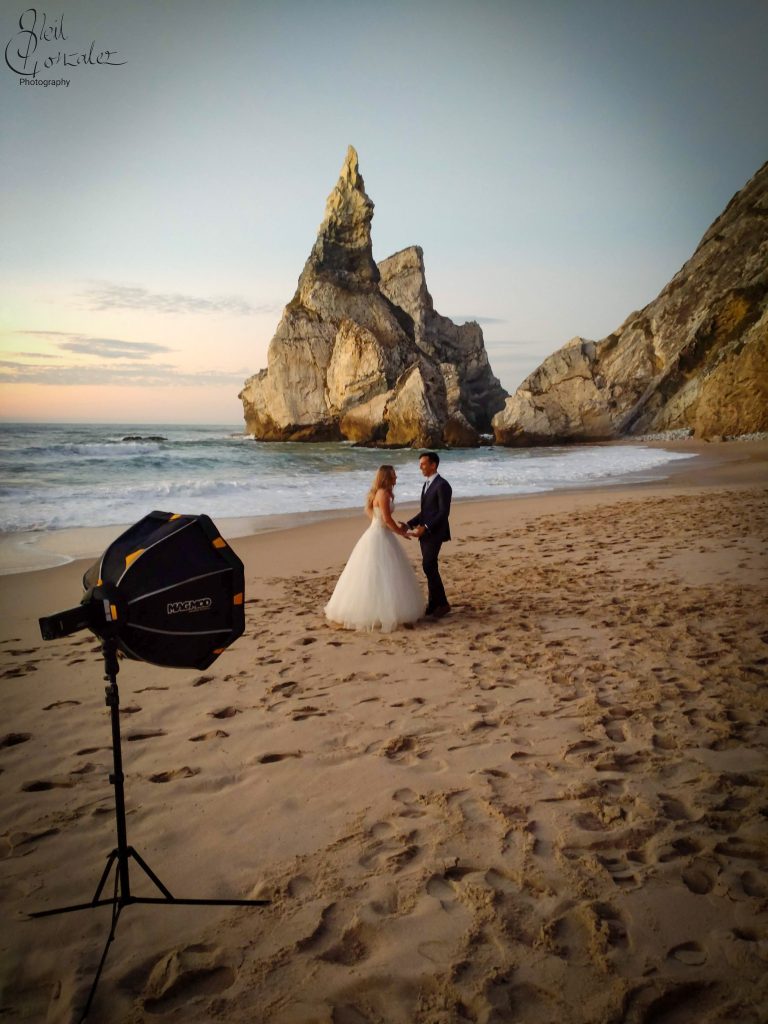 Maybe it was a case of "little did I know" and a whole part of "little did I consider" that the experience for the couple was not optimal. The music I was playing and the sound of the waves resonating off of the high-walled cove worked to drown out my verbal instructions/directions and the poor couple suffered as the sounds overwhelmed them. I genuinely felt bad about this and only to have discovered at the end of the session that nobody was able to hear me, and I have to definitely share this lesson learnt.
In the past, directing clients/models they say they didn't hear/understand is a very natural response, as there are seemingly 101 ways to move your chin up or turn your shoulder outward, but never did I consider that genuinely they weren't hearing me. I'm genuinely mortified! Next time…next time… next time…
The session regardless of the aforementioned flaw in my instruction over the Motown music and crashing of waves; was actually fabulous, the couple we gorgeous, and total naturals in front of the camera! The location was great and we managed to squeeze as much out of the time together as possible under the fading light.
I'm so grateful to have had this opportunity and to be trusted by Victoria and Paulo for this session!